Biblical History Wall Hangings
Judith Weinshall Liberman
Return to the Biblical History Wall Hangings Gallery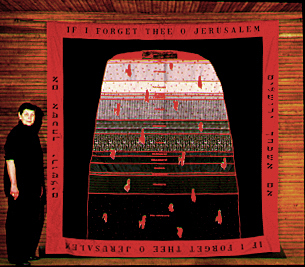 In the early 1990s, I began a series of artworks about Jewish history. My plan was to cover Jewish history from its beginning to the present through a series of wall hangings of which the Holocaust Wall Hangings would form a part. Jewish history was to be represented through a series of maps whose focus would be the relationship between the Jewish people and the land of Israel. It took a number of years to cover roughly the Biblical period – through Abraham's Journey, Exodus, the Tribes of Israel, the Assyrian Exile, the Babylonian Exile, the Return to Zion, the Creation of the Diaspora and Masada. In two wall hangings – O Jerusalem and If I Forget Thee – I represented the history of Jerusalem from its inception to the present day by showing the city perched on top of a high mountain composed of archaeological layers proportionate to the various periods of the city's rule.