Holocaust Paintings
Judith Weinshall Liberman
Return to the Holocaust Paintings Gallery
Detailed Annotations of each Holocaust Painting
View The Holocaust Wall Hangings Video
Songs About the Holocaust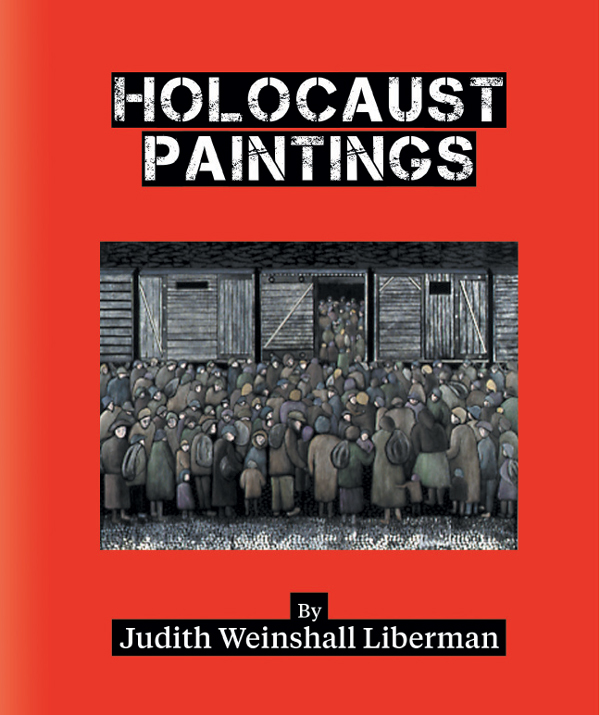 ABOUT THE BOOK
HOLOCAUST PAINTINGS introduces the reader to a series of paintings about the Holocaust which the artist-author Judith Weinshall Liberman created during her long career in visual art. The series is in the permanent collection of the Florida Holocaust Museum in St. Petersburg, Florida. The paintings are here presented to the reader for the first time in one volume. The clear text and the accompanying images of the artworks combine to throw light on the scope and meaning of the artist-author's paintings about the Holocaust.
The HOLOCAUST PAINTINGS were begun in 1987. The series consists of thirty-eight acrylic works on stretched canvas, some combining brush painting with techniques such as block printing, stenciling and collage.
The HOLOCAUST PAINTINGS are made up mainly of two distinct groups: First, there are the Scenes of the Holocaust. These are works which refer more or less to the visible world; in the continuum between realistic and abstract, they are closer to the former than to the latter. In these works people usually take center stage. They are seen as either utterly isolated or as part of a totally depersonalized mass. In either situation the individual is portrayed as stripped of his/her humanity by the Holocaust.
In the second group, the Maps of the Holocaust, the Shoah is depicted in more abstract terms. Places and numbers, as well as other symbols of destruction, take the place of the individual in telling the story. Often in these works, as in the Scenes, people appear, but this is done within the broader context of place and time.
Although both the Scenes and the Maps are based on historically accurate data, their chief impact is achieved through their composition and color expression. Employed is a limited palette of mostly red, black and gray, to create a mood throughout the series. The choice seems inevitable: red – blood and fire; gray – suffering and despair; black – death.
After spending years creating artwork – both paintings and wall hangings - about the Holocaust, I began exploring my personal relationship with the subject as well as the Holocaust's deeper philosophical implications. This exploration was expressed in a third group, the Epilogue works. These works raise an artist's fundamental post-Holocaust question about God: Where was He during the Holocaust, while millions of innocents perished? More specifically, the Epilogue works included in the Holocaust Paintings series reaffirm an artist's need to express the Shoah no matter what prohibition may be contained in the Second Commandment.
The HOLOCAUST PAINTINGS are dedicated to the memory of my husband, Robert Liberman, who, as a member of the United States liberating forces, saw Dachau in 1945 and never forgot.
SONGS ABOUT THE HOLOCAUST:
LIKE SHEEP TO THE SLAUGHTER (From the musical "To Be An Artist")

Listen

Read the lyrics
RED, GRAY, AND BLACK (From the musical "To Be An Artist")

Listen

Read the lyrics