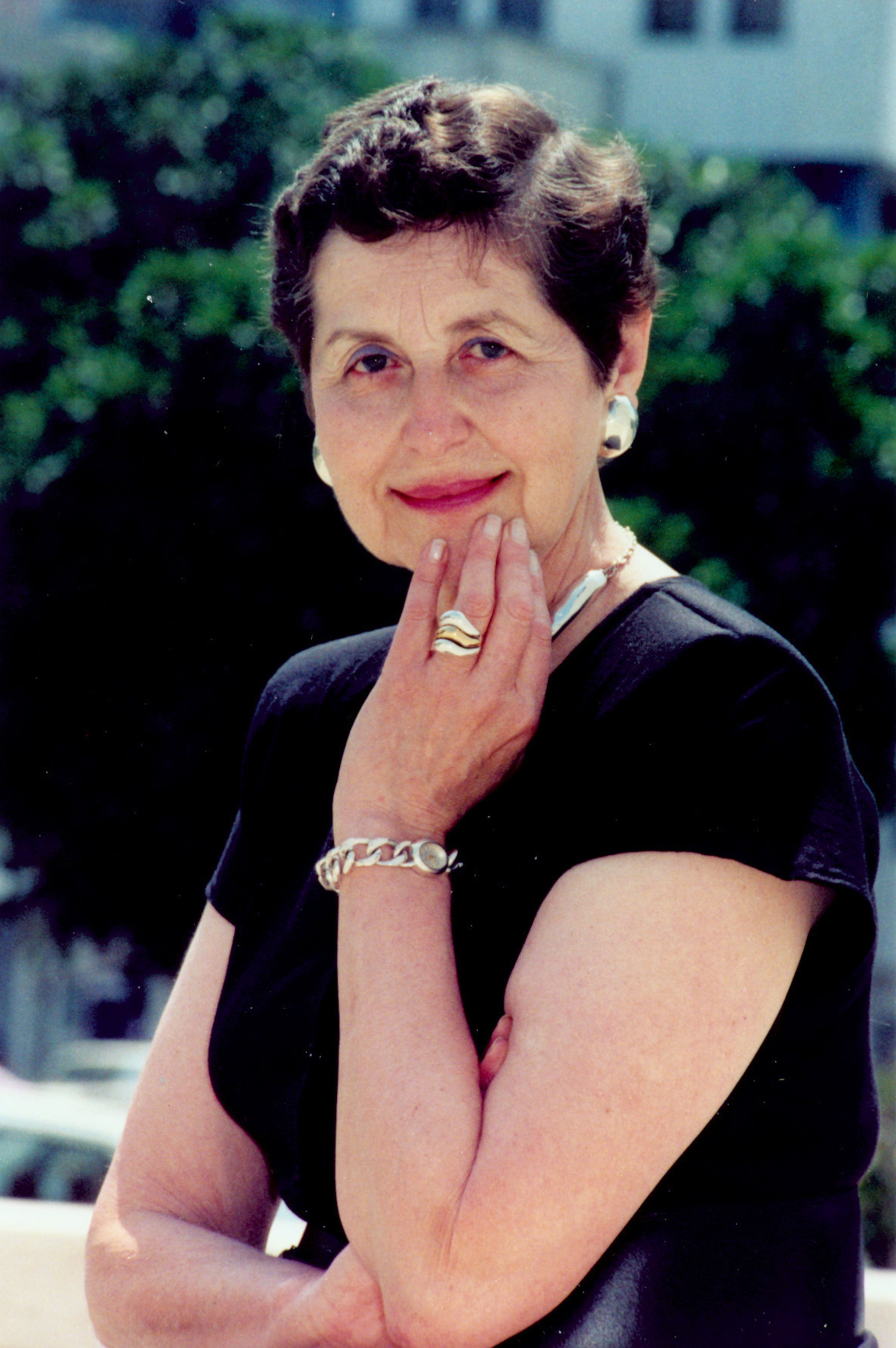 About My Creative Work
People often marvel at my creativity. Even in my eighties, and with failing eyesight, I still devote many hours a day to creative activity, as I have done for more than half a century. When I am asked why, I usually respond rather flippantly that I am just compulsive, or that being creative is cheaper than paying for a psychiatrist. There is some truth to both of these observations, but they don't tell the whole story.
I have been creative for as long as I can remember. I still recall the watercolors I painted in nursery school and the little baskets I wove at summer camp and the carvings I did on fallen tree branches when I was in the Scouts and the multicolor sweater I crocheted for a poor disabled young acquaintance when I was a little girl. Some of the beautiful objects in our home served as models for my earliest still-life paintings.
My art teacher at the Reali School in Haifa, Israel, Mr. Dov Medzini, himself a fine artist, praised my artwork, which gave me confidence in my ability. My parents also admired my artwork, but neither one of them considered art to be an important enough occupation for a young lady. So they sent me to America to study "important" subjects, such as government, international relations, and law.
I did as my parents wished. In college and in law school in America, I discovered that I love to write, both fiction and non-fiction. This is perhaps not surprising in view of the fact that my mother was a poet and a playwright, and my father routinely wrote articles about public affairs, employing me as his secretary to take his dictation.
It was in college, after my dear brother, Saul, was killed in the Israel War of Independence in 1948, that I wrote my first play. My boyfriend, Gerard, had been killed just a few months before in the fighting that preceded that war.
I sometimes wonder if I would have felt the impetus to write if I had not met with tragedy at such an early age.
I wrote poems both in college and in law school. After finishing law school, I taught law, but although I loved teaching and writing a law textbook for use by my law students, I found that the law did not satisfy me emotionally.
Eventually, and with emotional support from my husband, Prof. Robert Liberman, I rediscovered art and writing. My first venture into creative work at this stage of my life was a novel, MIRIAM'S DIARY (unpublished), which I wrote in the mid nineteen-fifties. During the decades that followed, I devoted myself largely to studying and creating visual art, although I did take time out to write, mainly plays.
In my visual art, from the start, I was not interested in rendering a photographic likeness of my subjects. Some of my earliest series of artworks, in the 1960s, were MOTHER AND CHILD, PORTRAITS AND SELF-PORTRAITS , MYSTIC INTERIORS and FLOWERS, in all of which I used my compositions, mainly the shapes and colors, to express my thoughts and feelings about the human condition. After creating my VIETNAM SERIES and my SKULLS series in the early 1970s, I felt I needed an escape, and spent about a decade creating more colorful, decorative works.
It was after my husband passed away in the mid-eighties that I turned back to dealing with more serious subjects in my visual art. Over the next fifteen years or so, I created three series about the Holocaust (the HOLOCAUST PAINTINGS, the HOLOCAUST WALL HANGINGS, and the SELF PORTRAITS OF A HOLOCAUST ARTIST), as well as my series on biblical history (BIBLICAL HISTORY WALL HANGINGS), and my two series about the current state of mankind (GENOCIDE and HOMO SAPIENS).
Although I continued creating some visual art during the first decade of the twenty-first century, I felt that my deteriorating eyesight was becoming a hindrance, and I increasingly turned to writing. I had earlier published THE BIRD'S LAST SONG (Addison-Wesley, 1976), a children's book which I had written and illustrated, and HOLOCAUST WALL HANGINGS (2002), in which I presented one of my series of artworks about the Holocaust.
Now I turned fully to writing, first writing my autobiography, MY LIFE INTO ART (Booklocker, 2007), in which I explored my long road into visual art. There followed two books of plays , LOOKING BACK: Four Plays (iUniverse, 2010), and ON BEING AN ARTIST: Three Plays and a Libretto (iUniverse, 2012). I welcomed the challenge of creating a musical, GOOD OLD ABRAHAM: THE MUSICAL on the basis of the play GOOD OLD ABRAHAM (the play had been published in LOOKING BACK), and the musical TO BE AN ARTIST, which was published in ON BEING AN ARTIST.
The greatest challenge for me in writing my two musicals was that of writing lyrics. I had a wonderful teacher in the young man, Stephen Feig, who was the composer of the music for my musicals and was experienced in the field of musicals. Stephen later composed music for about 50 lyrics which I wrote based on some of my poems that appeared in my books REFLECTIONS : Poems, Lyrics, and Stories (iUniverse, 2012, with Laura Liberman, M.D.) and PASSION : Poems of Love and Protest (iUniverse, 2013).
I later published the book ZINA: A Selection from Her Poems and Photographs (iUniverse, 2013), a book about my mother's life and poetry.
While working on some of these books, my interest in children's books was revived, and I published ICE CREAM SNOW (Dog Ear Publishing, 2012), based on a story I had written and illustrations I had created in the mid-1990s. I so enjoyed getting back to publishing a children's book that I turned full time to writing and publishing picture books. I found a fine artist, Gail Davis, to illustrate my children's stories, and we collaborated on THE LITTLE FAIRY (Dog Ear Publishing, 2013) and THE VERY OLD PAINTER AND HER HUSBAND (Dog Ear Publishing, 2014). I have enjoyed my collaboration with Ms. Davis not only because I find her to be a gifted illustrator, but also because she solicits my suggestions and allows me to guide her. Some of my own paintings are featured in the illustrations for our collaborative book THE VERY OLD PAINTER AND HER HUSBAND. Ms. Davis and I recently completed work on our third collaborative book, ANGEL'S PUPPIES, and I already have half a dozen other stories written which are awaiting Ms. Davis' illustrations.
I have also been working on two picture books that are perhaps more universal in their appeal. One is a book called HAIFA: My Home Town, illustrated by Radu Costea, and another titled COLOR IN OUR WORLD, which I illustrated myself with photographs. The latter is my ode to color.
In summary, as I look back upon my long creative life, I see that over time, the particular medium I have chosen to express myself has evolved from creating visual art to writing about my art to writing plays and musicals and poetry, to writing lyrics, to focusing on picture books.
Whatever the medium, my main focus has always been to express my own thoughts and feelings. My one recurring nightmare is that I try to speak but somehow I am stricken mute so I cannot say what is on my mind. I have spent my life making sure that this nightmare does not materialize.
Artist's Biography
Born in Haifa, Israel, Judith Weinshall Liberman came to the United States after completing high school. She earned four American university degrees in social studies and law, including a J.D. from the University of Chicago Law School and an LL.M. from the University of Michigan Law School. After settling in the Boston area in 1956, she studied art at the School of the Museum of Fine Arts, at Massachusetts College of Art, at the DeCordova Museum School and at the Art Institute of Boston. She completed all course work for the M.F.A. degree at Boston University School for the Arts and is certified as an art teacher. Ms. Liberman is an award winning author and illustrator. Her art has been exhibited in museums and other public institutions in the United States and in Israel. Her work is represented in numerous public collections, including the collections of the Yad Vashem Museum in Jerusalem, the Ghetto Fighters' House Museum in Kibbutz Lochemai Hagetaot and the Haifa Museum of Modern Art in Haifa, Israel; the DeCordova Museum in Lincoln, The Jackson Homestead Museum in Newton and the Museum of our National Heritage in Lexington, Massachusetts; The William Benton Museum of Art in Storrs, Connecticut; The Temple Museum of Religious Art of Temple Tifereth Israel in Cleveland, Ohio; and the Florida Holocaust Museum in St. Petersburg, Florida.
Selected General Education
1956-2014 General and creative writing courses at The Great Courses, Gotham Writers' Workshop,  Harvard Extension, Boston Center for Adult Education etc.
1956 LL.M., University of Michigan Law School, Ann Arbor, MI
1954 J.D., University of Chicago Law School, Chicago, IL
1953 M.A., University of Chicago, Chicago, IL
1950 B.A., University of California, Berkeley, CA
1946 High School Diploma, Reali School, Haifa, Israel
Selected Art Education
1968-1988 DeCordova Museum School, Lincoln, MA (drawing, painting, graphics, sculpture etc.)
1987-1988 Massachusetts College of Art, Boston, MA (painting etc.)
1976-1977 Boston University School for the Arts, Boston, MA(art education, fiber arts etc.)
Certified as an art teacher in Massachusetts
1964-1966 School of the Museum of Fine Arts, Boston, MA (painting)
1963-1964 Art Institute of Boston (School of Practical Art), Boston, MA(drawing, painting)
Selected Honors
2010 The playwright's book LOOKING BACK: FOUR PLAYS was chosen as Play of the Week by the
Jewish-Theatre on Line at www.jewish-theatre.com, October 2010
1976 The artists book, THE BIRD'S LAST SONG (Addison Wesley, 1976), named as one of the
Fabulous Books of 1976
1956 American Law Book Prize, University of Michigan Law School, Ann Arbor, MI
1954 Order of the Coif, First in her Class, University of Chicago Law School, Chicago, IL
1950 Phi Beta Kappa, Highest Honors, University of California, Berkeley, CA