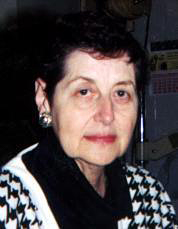 Selected Solo Exhibits
2016 REFLECTIONS ON MAN'S FATE, Florida Holocaust Museum St. Petersburg, FL

2013
REFLECTIONS ON MAN'S FATE, Florida Holocaust Museum St. Petersburg, FL
2012
HOLOCAUST WALL HANGINGS, Temple Museum of Religious Art, Cleveland, OH
2011
BIBLICAL HISTORY WALL HANGINGS, Temple Beth Shalom, Roslyn Heights, NY
2011
HOLOCAUST WALL HANGINGS, Temple Museum of Religious Art, Cleveland, OH
2010
HOLOCAUST WALL HANGINGS, Temple Museum of Religious Art, Cleveland, OH
2009
HOLOCAUST WALL HANGINGS, Temple Museum of Religious Art, Cleveland, OH
2008
HOLOCAUST WALL HANGINGSI, Temple Museum of Religious Art, Cleveland, OH
2008
REFLECTIONS ON MAN'S FATE, Florida Holocaust Museum. St. Petersburg, FL
2007
HOLOCAUST WALL HANGINGS: A SELECTION, College of St. Elizabeth, Morristown, NJ
2007
HOLOCAUST WALL HANGINGS, Temple Museum of Religious Art, Cleveland, OH
2007
A SELECTION FROM THE EPILOGUE WORKS, Temple Museum of Religious Art, Cleveland, OH
2006
BIBLICAL HISTORY WALL HANGINGS, Temple Museum of Religious Art, Cleveland, OH
2006
THREADS OF REMEMBRANCE, Maltz Museum of Jewish Heritage, Beachwood, OH
2006
HONORING MY BROTHER, Temple Ohabei Shalom (permanent exhibit), Brookline, MA
2005
HOLOCAUST WALL HANGINGS V, Temple Museum of Religious Art, Cleveland, OH
2005
BIBLICAL HISTORY WALL HANGINGS, Temple Museum of Religious Art, Cleveland, OH
2005
SELF PORTRAITS OF A HOLOCAUST ARTIST, Temple Beth Shalom Rodfe Zedek, Chester, CT
2004
HOLOCAUST WALL HANGINGS IV, Temple Museum of Religious Art, Cleveland, OH
2004
HOLOCAUST WALL HANGINGS III, Temple Museum of Religious Art, Cleveland, OH
2004
REFLECTIONS ON MAN'S FATE, Florida Holocaust Museum. St. Petersburg, FL
2003
HOLOCAUST WALL HANGINGS, Temple Museum of Religious Art, Cleveland, OH
2003
WOMEN IN THE HOLOCAUST: HOLOCAUST PAINTINGS, Hebrew Union College, Cincinnati, OH
2001
SELF PORTRAITS OF A HOLOCAUST ARTIST, The William Benton Museum of Art, Storrs, CT
2001
HONORING MY BROTHER, Temple Ohabei Shalom (permanent exhibit), Brookline, MA
1999
HOLOCAUST WALL HANGINGS, Florida Holocaust Museum, St. Petersburg, FL
1999
HOLOCAUST PAINTINGS, Hatikvah Holocaust Center, Springfield, MA
1999
EXPLORING HISTORY AND MEMORY, Perkins Gallery, Striar JCC, Stoughton, MA
1999
LAMENTATIONS: CERAMIC WORKS, Dodd Center, University of Connecticut, Storrs, CT
1999
HOLOCAUST WALL HANGINGS, The Long Island Museum, Stony Brook, NY
1999
BOATS, Citizens Bank, Newton, MA
1998
THE HOLOCAUST, New England Bio Labs, Beverly, MA
1998
ESCAPE INTO COLOR, Depot Square Gallery, Lexington, MA
1998
BEGINNINGS, Depot Square Gallery, Lexington, MA
1997
HOLOCAUST WALL HANGINGS, Hatikvah Center, Springfield, MA
1997
REFLECTIONS, Depot Square Gallery, Lexington, MA
1996
HOLOCAUST PAINTINGS, Newton Free Library, Newton, MA
1995
HOLOCAUST WALL HANGINGS, Jorgensen Gallery, University of Connecticut, Storrs, CT
1994
HOLOCAUST WALL HANGINGS DeCordova Museum, Lincoln, MA
1992
HOLOCAUST WALL HANGINGS, Yad Vashem Museum, Jerusalem, Israel
1992
HOLOCAUST WALL HANGINGS, Mishkan Le'Omanut Museum, Ein Harod, Israel
1990
HOLOCAUST WALL HANGINGS, Starr Gallery, JCC, Newton, MA
1990
EXHIBIT OF THE MONTH, Haifa Museum of Modern Art, Haifa, Israel
1989
HOLOCAUST PAINTINGS, Hebrew College Museum, Brookline, MA
1977
PRINTPAINTINGS, Ward Nasse Gallery, New York, NY
1975
WOMEN, Ward Nasse Gallery, New York, NY
1975
PAINTINGS ON PRINTED FABRICS, West Newton Library, Newton, MA
1973
PAINTINGS AND WOODCUTS, Gallery of World Art, Newton MA
1971
DR. ABRAHAM WEINSHALL, MY FATHER, Dagon, Haifa, Israel
Selected Juried Group Exhibits
2009 ANNE FRANK IN THE ARTIST'S EYES, Rumbach Synagogue, Budapest, Hungary
2001 MATERIAL HISTORY: A CULTURAL EXPLORATION IN FIBER ETC., JCC, Newton, MA
1999 SELECTIONS FROM THE JEWISH ARTISTS NETWORK, Starr Gallery, JCC, Newton, MA
1999 ABSENCE/PRESENCE, Katherine E. Nash Gallery, University of Minnesota, Minneapolis, MN
1997 MIRROR MIRROR: WOMEN IN SELF PORTRAIT, Smithtown Arts Council, NY
1996 METAPHOR FOR THE TWENTIETH CENTURY, Hera Gallery, Wakefield, RI
1995 DREAM HOUSE, Habitat Benefit Exhibit, Pittsfield, MA
1988 NEWTON'S OWN, New Art Center, Newton, MA
1984 EMERGING JEWISH ARTISTS OF NEW ENGLAND, Sheraton Hotel, Boston, MA
1976 MARIGOLD GARDEN SHOW, Boston Public Library, Boston, MA
1974 BOSTON VISUAL ARTISTS EXHIBITION, Cyclorama, Boston, MA
1973 WOMEN ARTISTS EXHIBITING IN BOSTON, City Hall, Boston, MA

Permanent Solo Exhibits and Installations
Temple Museum of Religious Art, The Temple Tifereth Israel, Beachwood, OH (Holocaust Wall Hangings and Biblical History Wall Hangings) (Temporarily suspended)
Judaic Studies Department, Dodd Center, University of Connecticut, Storrs, CT (ceramics)
Temple Ohabei Shalom, Brookline, MA (ceramics)
Museum Collections
DeCordova Museum, Lincoln, MA
The Jackson Homestead Museum, Newton, MA
Museum of Our National Heritage, Lexington, MA
The Temple Museum of Religious Art, Cleveland, OH
The William Benton Museum of Art, University of Connecticut, Storrs, CT
Florida Holocaust Museum, St. Petersburg, FL
Yad Vashem Museum, Jerusalem, Israel
Museum of Modern Art, Haifa, Israel
Ghetto Fighters' House Museum, Kibbutz Lochemai Hagetaot, Israel

Selected Public Collections
Ahavat Torah Congregation, Stoughton, MA
The American Red Cross of Massachusetts Bay, Boston, MA
The Andrew Peabody School, Cambridge, MA
Andover Newton Theological School, Newton, MA
Arts in Progress, Jamaica Plain, MA
Baha'i World Center, Haifa, Israel
Boston Career Link, Boston, MA
Boston Hamilton House, Dorchester, MA
Boston Health Care for the Homeless, Boston, MA
Brandeis University, Waltham, MA
Cambridge Community Services, Cambridge, MA
Cambridge Family & Children's Service, Cambridge, MA
Casa Nueva Vida, Jamaica Plain, MA
CASCAP, Cambridge, MA
Center for Women & Enterprise, Boston, MA
Chabad Center, Sharon, MA
Chabad House, Boston, MA
Children's Advocacy Center of Suffolk County, Boston, MA
Children's Services of Roxbury, Roxbury, MA
Codman Square Neighborhood Center, Dorcester. MA
Committee to End Elder Homelessness, Boston, MA
Communities for People, Somerville, MA
Congregation Agudas Achim, Brockton, MA
Congregation Beth Pinchas, Brookline, MA
Congregation B'nai Shalom, Westborough, MA
Congregation B'nai Torah, Sudbury, MA
Congregation Eitz Chayim, Cambridge, MA
Deaconess-Glover Hospital, Needham, MA
Dimock Community Health Center, Roxbury, MA
Dodd Center, University of Connecticut, Storrs, CT
Ellis memorial, Boston, MA
Employment Options, Inc., Marlborough, MA
Ethos, Jamaica Plain, MA
Family Service of Greater Boston, Jamaica Plain, MA
Fitzgerald School, Cambridge, MA
Greater Boston Legal Services, Boston, MA
Harbour House Family Center, New Bedford, MA
Harvard Square Homeless Shelter, Cambridge, MA
Hatikvah Holocaust Center, Springfield, MA
Health Care for All, Boston, MA
HomeStart, Boston, MA
Inman Street Apartments, Cambridge, MA
Jackson Garden Apartments, Cambridge, MA
Jewish Community Center, Springfield, MA
Jewish Vocational Services, Boston, MA
Joseph M. Smith Community Health Center, Allston, MA
Kadimah Synagogue, Springfield, MA
Kean University, Union, NJ
Lena Park Community Development, Dorchester, MA
The Lynn Housing Authority, Lynn, MA
Manning Apartments, Cambridge, MA
Mass. Assoc. of Community Devel. Corps, Boston, MA
Massachusetts Department of Public Health, Boston, MA
Massachusetts Eating Disorder Association, Newton, MA
The McGrath House, Boston, MA
The Medical Foundation, Boston, MA
Metropolitan Boston Housing Partnership, Boston, MA
Multicultural Aids Coalition, Boston, MA
The Nate Smith House, Jamaica Plain, MA
Neonatal Intensive Care Unit at Tufts - NEMC, Boston, MA
Neponset Health Center, Dorchester, MA
New England Baptist Hospital, Boston, MA
New England Shelter for Homeless Veterans, Boston, MA
Newton Community Service Center
Newton Free Library, Newton, MA
Newton Wellesley Hospital, Newton, MA
Odwin Learning Center, Dorchester, MA
On the Rise, Cambridge, MA
Pine Street Inn, Boston, MA
Project Hope, Dorchester, MA
Project Place, Boston, MA
Queensborogh Community College, CUNY, Bayside, NY
Reali Hebrew School, Haifa, Israel
Rosie's Place, Boston, MA
Roxbury Community College, Boston, MA
Senior Living on Bellingham Hill, Chelsea, MA
Shaloh House, Stoughton, MA
Shattuck Shelter, Jamaica Plain, MA
Solomon Schechter School, Newton, MA
Somerville Community Access TV, Somerville, MA
South Boston Behavioral Health, Boston, MA
South Shore Elder Services, Braintree, MA
SPAN, Inc., Boston, MA
Stoneham Senior Center, Stoneham, MA
Taunton State Hospital, Taunton, MA
Temple Beth Am, Randolph, MA
Temple Beth David, Westwood, MA
Temple Beth Elohim, Wellesley, MA
Temple Beth Israel, Waltham, MA
Temple Beth Shalom, Cambridge, MA
Temple Beth Sholom, Hull, MA
Temple Emunah, Lexington, MA
Temple Hillel B'nai Torah, West Roxbury, MA
Temple Ohabei Shalom, Brookline, MA
Temple Reyim, Newton, MA
Tewksbury Hospital, Tewksbury, MA
Third Sector New England, Boston, MA
Transition to Work, Dorchester, MA
Travelers' Aid Society of Boston, Boston, MA
United Homes Adult Services, Dorchester, MA
Urban League of Eastern Massachusetts, Roxbury, MA
Veterans' Northeast Outreach Center, Haverhill, MA
Victory Programs, Boston, MA
Visiting Nurse Association of Boston, Charlestown, MA
Volunteer Lawyers Project, Boston, MA
Women's Center, Cambridge, MA

Major Series Locations
The Temple Museum of Religious Art of The Temple Tifereth Israel, Cleveland, Ohio
BIBLICAL HISTORY WALL HANGINGS
HOLOCAUST WALL HANGINGS (45)
Florida Holocaust Museum, St. Petersburg, Florida
GENOCIDE
HOLOCAUST PAINTINGS
HOLOCAUST WALL HANGINGS (14)
SKULLS
Reflections on Man's Fate is an exhibition of paintings and textile works by artist Judith Weinshall Liberman. Drawn from works from the Museum's permanent collection, the show includes wall hangings and works on canvas from the artist's Holocaust Paintings, Holocaust Wall Hangings, Skull Series and Genocide Series. Her work focuses on the present state of mandkind as well as the relentlessness and enormity of history's darkest period.
Tampa Bay Times Review 9-2012
The William Benton Museum of Art, Storrs, Connecticut
SELF PORTRAITS OF A HOLOCAUST ARTIST (150)
Kean University, Union, New Jersey
MOTHER AND CHILD
VIETNAM
Queensborough Community College, CUNY, Bayside, New York
HOMO SAPIENS
PORTRAITS AND SELF PORTRAITS (15)
Archives
Materials re Judith Weinshall Liberman's work are archived at:

Smithsonian Archives of American Art, Smithsonian Institution, Washington., D.C.
Papers relating to the Holocaust Wall Hangings documenting events of the Holocaust including photographs and slides of works of art; 29 VHS videos of panel discussions and exhibition installations; 20 audio cassettes and 3 mini cassettes of interviews and lectures; letters and manuscripts
Archives & Special Collections at the Thomas J. Dodd Research Center, University of Connecticut Libraries
(Northeast Children's Literature Collection)
The collection focuses exclusively on materials related to Judith Liberman's childrens books, The BIRDS'S LAST SONG, ICE CREAM SNOW, and THE LITTLE FAIRY. The collection houses the wood blocks and the original block prints used to create the illustrations of THE BIRD'S LAST SONG. The collection also includes the original manuscript materials and the original artworks (tissue paper collages) used to create ICE CREAM SNOW. Also included are book dummies, preliminary and finished illustrations, drafts, correspondence, proofs, and sketches.
The Children's Literature Collection houses papers and images from the 2013 children's book THE LITTLE FAIRY. The illustrations were created by Gail Davis under the guidance of the author. The materials show the long road involved in illustrating a book, and include each illustration in the book: a printout of the first illustration of each piece of text and the last illustration of the text, as well as comments and directions to Ms. Davis regarding each of her illustrations. Since Ms. Davis creates her illustrations digitally, there was no "original artwork" donated, unlike re THE BIRD'S LAST SONG and ICE CREAM SNOW, where the illustrations were done by the author on paper/board respectively.
Boston Public Library, Art Department, Boston, Massachusetts.