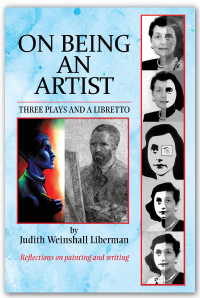 On Being An Artist: Three Plays and a Libretto
A NOTE FROM THE PLAYWRIGHT-LIBRETTIST
ABOUT THE BOOK
The three plays and the libretto in this collection were all written by Judith Weinshall Liberman when she was in her eighties. All four dramatic works are semi-autobiographical and give expression to the insight the author gained through half a century of creating visual art and of writing. The first play, SOUL MATE, was inspired by Ms. Liberman's collaboration with a gifted young composer on her own first musical play. Both VINCENT'S VISIT and JUDITH AND ANNE were inspired by the author's experience as a visual artist, especially by the years she devoted to creating her three series of artworks about the Holocaust. TO BE AN ARTIST integrates elements from VINCENT'S VISIT and JUDITH AND ANNE into a musical play in which the characters express themselves not only through frank dialogue but also in twenty lyrics which provide insight into their minds and hearts. Also included in the book are black-and-white reproductions of twenty-five of Judith Weinshall Liberman's artworks. These reproductions are designed to help the reader better understand some of the matters discussed in the book. Works include:
1. SOUL MATE A one-act play
The artist's collaboration with a composer on the artist's first musical
2. VINCENT'S VISIT A one-act play
An imaginary encounter between the artist and Vincent van Gogh
3. JUDITH AND ANNE A one-act play
An imaginary encounter between the artist and Anne Frank
4. TO BE AN ARTIST A musical in two acts
Libretto by Judith Weinshall Liberman Music by Stephen Feig
Based on VINCENT'S VISIT and JUDITH AND ANNE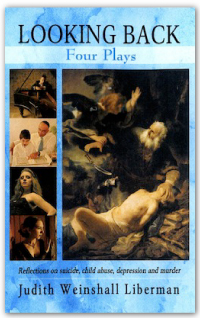 ABOUT THE BOOK
The four plays in this collection were all written after Judith Weinshall Liberman reached her eighties. One play, EMPATHY, was inspired by a period in the playwright's life, when her husband, then only 52, suffered a stroke which rendered him unable to play the piano and led to his severe depression. The other three plays - GOOD OLD ABRAHAM, MICHAL and SISERA'S MOTHER - were inspired by Old Testament stories which the playwright studied in elementary school in her native Israel but upon which she bestows, in her plays, a mature perspective that raises questions relevant to our times.
The playwright's book LOOKING BACK was chosen as Play of the Week by the Jewish-Theatre on Line at www.jewish-theatre.com, October 2010.
1. EMPATHY A one-act play
A family's reaction to a debilitating stroke suffered by the head of the family
2. GOOD OLD ABRAHAM A full-length play in three acts
(Also see "GOOD OLD ABRAHAM: The Musical)
A present-day American teenager's reaction to the biblical story of Abraham
3. MICHAL A short play in three acts
inspired by the tragic biblical story of Michal, first wife of King David
4. SISERA'S MOTHER A ten-minute play
Inspired by the biblical story of a mother awaiting her son's return from battle