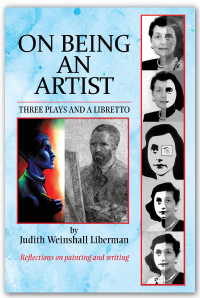 On Being An Artist: Three Plays and a Libretto
A NOTE FROM THE PLAYWRIGHT-LIBRETTIST

Return to On Being An Artist: three Plays and a Libretto
This book is organized in the order in which I wrote SOUL MATE, VINCENT'S VISIT, JUDITH AND ANNE and the libretto for my musical play TO BE AN ARTIST.
I wrote SOUL MATE in January 2011, while I was collaborating, as librettist-lyricist, with a composer on my first musical play, GOOD OLD ABRAHAM: THE MUSICAL. Although the characters in SOUL MATE are fictitious, and the materials in the play are made up, SOUL MATE was inspired by my interaction, as an aged aspiring lyricist, with a gifted young composer.
VINCENT'S VISIT was written in the spring of 2011. As a visual artist, I had for many years wondered what would happen if I ever met Vincent van Gogh, my favorite artist. I wanted to ask him questions which had preoccupied me since my childhood about his art. I also wondered what he would say about my own visual art, whether he would understand it and be moved by it, especially by my art about war and the Holocaust.
I imagined a play about my encounter with Vincent van Gogh but never got around to writing one until a film producer mentioned that he would like to make a documentary film about my life, especially about my art, and it occurred to me that it would be interesting and instructive to show my art within the framework of an encounter between van Gogh and me, so that displaying my artwork and discussing it would naturally flow from the dialogue between van Gogh and myself.
The format itself - a play which is part of a documentary - required a strict limitation on the number, and the type, of artworks that would be included; there was no practical way the upward of a thousand artworks I had created could be included. Since I have always worked in series, I chose works from some of my more important series, such as my SELF PORTRAITS series, the MYSTIC INTERIORS series, the MOTHER AND CHILD series, the VIETNAM series, and my three series about the Holocaust, i.e., the HOLOCAUST PAINTINGS, the HOLOCAUST WALL HANGINGS and the SELF PORTRAITS OF A HOLOCAUST ARTIST series. I also included works from some of my more "decorative" series, such as my BOATS series and the FLOWERS series, which I had created as an escape from my preoccupation with the human condition.
JUDITH AND ANNE was written in the summer of 2011. It was inspired by my autobiography, MY LIFE INTO ART, which was published in 2007. While the book covers decades of my life and illuminates my long and difficult path to becoming an artist, JUDITH AND ANNE focuses on a single aspect of my life, namely, my relationship, as an artist, with Anne Frank, the young Holocaust victim whose story about her life in hiding during World War II is now legend.
I had devoted forty years of my life to creating visual art. Beginning in the mid-1980s, after spending a quarter century creating art, I focused my artistic vision mainly on the Holocaust. In each of my three series on the subject, I based several artworks on Anne Frank. Creating art about the Holocaust served to intensify my interest in Anne Frank and made me wish that I could meet her and speak to her. Although in this play I changed some of the events depicted and their time frame, JUDITH AND ANNE is true to the essence of my story. This is the story of two people, Judith and Anne, whom fate first held apart and then thrust together in an unforeseeable and magical way.
I wrote the libretto for TO BE AN ARTIST in the fall of 2011. The musical was based on two of my plays, VINCENT'S VISIT and JUDITH AND ANNE. Since both plays were semi-autobiographical and focused on my visual art, creating a single theatrical work integrating elements from each seemed reasonable.
My recent work on my first musical, GOOD OLD ABRAHAM, whetted my appetite for this theatrical genre. While writing the lyrics for my new musical, I decided to adapt a lyric from one of my plays, SOUL MATE, for TO BE AN ARTIST. I collaborated on the music for TO BE AN ARTIST with the same gifted young composer I had collaborated with on my previous musical.
In order to help the reader better understand some of my artworks discussed in the plays and libretto, I decided to include, at the end of the book, 25 plates, which are black-and-white reproductions of some of my artworks. Although black-and-white reproductions, especially when rendered in such a reduced size, cannot do justice to the original artworks, it is my hope that they will clarify for the reader some of the discussion in my dramatic works and hopefully also wet the reader's appetite for seeing my artworks on the internet and in person.