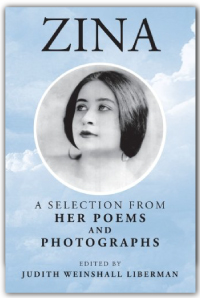 Zina: A Selection From Her Poems And Photographs
PREFACE by Judith Weinshall Liberman

I surprised even myself when I conceived the idea of publishing, in English, some of my mother's poetry.
My mother's name was Zina Weinshall. She immigrated to Israel (then called "Palestine") from Russia with my father, Dr. Abraham Weinshall, in 1920, and had three small collections of her poetry printed in the form of small books between 1929 and 1944 for distribution to family and friends.
The small book printed in 1929 contained poems which were written in Russian, her mother tongue. The two collections printed later - in 1939 and 1944, respectively. - were written in Hebrew, the language of her adopted country.
Although I could easily have read the poems contained in her two small books written in Hebrew (my own mother tongue), I did not read the poems contained in these books until I was past my 80th birthday and had myself become a poet.*
Looking back, I believe the main reason I did not bother to read my mother's poems all those years, although I possessed the small bound collections of poems she had printed, was that her poetry was the source of great pain to me when I was growing up. Since my mother not only wrote poetry but also recited it in public in the 1930s and 1940s, the decades of my youth, she had to practice her recitation, which she did for hours on end at our home, while pacing up and down the central corridor. It was the rule at our house that no sound may be made by anyone in the household while my mother was engaged in practicing her recitation, because any sound might interfere with her concentration. So the housekeeper, the cook, the nanny, my brother, and I, were not permitted to utter a word or make any other sound for all the hours my mother practiced her recitation. I have often wondered if my overwhelming drive to express myself all these past decades, whether through visual art or writing, was the result of having to spend so much of my youth compelled to be silent.
I don't believe my father was subjected to my mother's rule of silence, or was even aware of it, since my mother did not engage in practicing her recitation when he was home.
The three collections of her poetry which my mother had printed were:
1. Palestinian Album, containing 28 poems written in Russian between 1918 and 1927. This small book was printed in Berlin in 1929;
2. Twenty-Five Poems, containing 25 poems written in Hebrew, and printed in Israel in1939;
3. The Beaded Necklace, containing 25 poems written in Hebrew, and printed in Israel in1944.
These three small books were all softcover ones, and each was approximately 6 ½ inches long by 4 ¾ inches wide. The small format of the books was appropriate, since most of the poems in them were short. My mother's first name was given as "Zinaida" on the cover of the first of these books, Palestinian Album, but appeared in its shortened version, "Zina," in the two subsequent books. The cover of each of the collections was of a different color: That of Palestinian Album was terra cotta, that of Twenty-Five Poems was cream, and that of The Beaded Necklace, was light blue. Perhaps my mother selected each color for the cover of a particular one of her books because she associated that color with the contents of the collection contained in that volume.
Since I do not read Russian, I asked my dear cousin Prof. Arthur Gill to translate Palestinian Album into English, which he was kind enough to do. I translated both Twenty-Five Poems and The Beaded Necklace from Hebrew into English, and then had Prof. Gill go over my translation to ensure its accuracy.
It was impossible to convey in the English translation the richness of the original language, or to be faithful to the rhythm and rhyming used in my mother's original poems, whether those written in Russian or those written in Hebrew. The best the translation could hope to achieve was to convey the poet's thoughts and feelings, while staying true to her rich imagery.
The selection of poems in each of the three collections was left intact in the present book, as was the sequence of the poems within each collection. In some poems, I had to break up my mother's 4-line stanzas into 8-line ones, or, in single stanza poems, break up a given line into two, in order to fit the English translation into the format of the present book.
My mother was not inclined to give a title to each of her poems. Although she included a table of contents in each small book, the table of contents in the two collections of Hebrew poems, Twenty-Five Poems and The Beaded Necklace,, simply echoed the opening words of the relevant poem, rather than representing the essence of the poem. In the body of the two Hebrew collections, each poem was simply titled alphabetically, using the letters of the Hebrew alphabet in sequence. Her collection of Russian poems, Palestinian Album, was a mix of titled, untitled, and numbered poems; the numbered poems used Roman numerals. Because of my desire to achieve a coherent presentation and include a consistent index of all the poems in this book, I found it necessary to have each poem titled, no matter which of the three collections it came from, and to title each with the opening words of the relevant poem. In the instances where my mother did give a title to a poem in the body of one of her small books, I retained the title she gave the poem but put it in parentheses under the title consisting of the opening words of the poem.
The photographs included in this book are meant to shed light on the woman, her life, and her poetry. I arranged the photographs chronologically, dividing them into four periods: a) from childhood to motherhood, b) early motherhood, c) the outgoing years, and d) the closing years. Where I was certain of the year in which a given photo was taken, I noted that year in the annotation accompanying that photo. In the instances where I was not sure of the year, the annotation indicates the range of years during which that photo was taken. Very few of the photographs were previously published.* Those that were previously published are clearly identified in the footnotes.
In her later years – she was only a few days short of her 90th birthday when she died in 1990 – my mother was not fond of being photographed. Doubtless, she wanted to have her image preserved as it was in her younger days. Out of deference to my mother's wishes, and because her life as a poet was largely over by the late 1940s, I concluded the selection of photographs assembled in this book with one taken in 1950. It shows my mother and me in Switzerland. My parents had invited me to spend the summer of 1950 with them in Switzerland after my graduation from the University of California at Berkeley, before I proceeded to do graduate work at the University of Chicago. I believe that this photo is the only one taken of my mother and me together since I was a baby and she held me in her arms.
My mother largely stopped writing poetry after her son - my brother, Saul - was killed in the Israel War of Independence in 1948. Shortly after Saul died, she decided to publish a book about him. The small book, which came out in 1951, was called Saul Weinshall and was intended for distribution to family and friends. The hard cover of the book was army-green in color, and its front featured Saul's name and a reproduction of a pastel portrait of him dressed in a military style uniform at about age 10. The original portrait, which was life size, was created by artist Erich Colm-Bialla. The book included photographs of Saul at various ages,and highlights of his life, as well as some of his correspondence and other writings. It also included a poem my mother wrote about him after he was killed. The poem was titled "Unknown Soldier," and I have included in the present book a scan of the poem as it appears in the book Saul Weinshall, as well as a scan of my mother's handwritten original, and my translation of the poem.
It is curious to me that my brother's death did not impel my mother to continue expressing her feelings through writing poetry for the rest of her life. I wonder what her writing would have been like if she had continued writing poems during the decades after Saul was killed.
As I look back on my mother's life as a poet, I cannot help noticing that while her poetic star rose very early, when she was still in her teens, it also died early, when she reached about age fifty. Like a shooting star, her poetic light shone brightly for a brief moment in time. Perhaps this book will help that light shine on.
I am grateful to my beloved cousin Prof. Arthur Gill for his work on the translation of my mother's poetry into English, and to my dear friend Judy Robbins for her editorial assistance.
* See REFLECTIONS: Poems, Lyrics, and Stories, by Judith Weinshall Liberman and Laura Liberman, M.D., (iUniverse, 2012); and PASSION: Poems of Love and Protest, by Judith Weinshall Liberman, (iUniverse, 2013).
* See MY LIFE INTO ART: An Autobiography, by Judith Weinshall Liberman (BookLocker, 2007).
TO PURCHASE Zina: A Selection from her Poems and Photographs